The Asia Pacific Jesuit Education Consortium
As one of the Jesuit universities, Sanata Dharma University hosted the Asia Pacific Jesuit Education Consortium. Participated in by 10 Jesuit institutions from 6 different countries in Asia Pacific, the consortium was held on 30-31 October 2017 at Kadarman Room, Sanata Dharma University. The institutions who participated in the consortium were Instituto de Britto (East Timor), Sophia University (Japan), St. Aloysius Gonzaga English Language Institute (Myanmar), Ateneo de Davao University (Philippines), Ateneo de Manila University (Philippines), Ateneo de Naga University (Philippines), Ateneo de Zamboanga University (Philippines), Xavier University (Philippines), Xavier Learning Community (Thailand), and Sanata Dharma University. Continue Reading →
The Presidents of Asia Pacific Universities and Colleges Meeting was held in Chiang Rai, Thailand at XLC (Xavier Learning Community). The meeting was held for two days on the 18th and 19th of August 2017.
There were 32 delegates from each university and college who are the members of AJCU-AP (The Association of Jesuit Colleges and Universities in Asia Pacific). They are the delegates from Indonesia, Japan, Philippines, Korea, China, Thailand, and Australia. The meeting aimed to discuss the progress and the challenges faced by each member of AJCU-AP, and the current issues related to the universities' and colleges' development.  Continue Reading →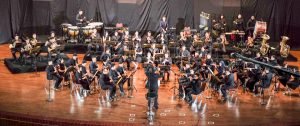 Held in the Driyarkara Auditorium of Sanata Dharma University, the International Charity Concert 2016 was successfully conducted. This concert was one of the highlighted events that were part of the celebration of the 61th Dies Natalis of Sanata Dharma University. In conducting the concert, the participation of the audiences in watching the concert was also required. Fortunately, the enthusiasm of the audience was quite obvious, and was proven by the number watching the performance reaching almost six hundred people. Continue Reading →

The Association of Jesuit Colleges and Universities in Asia Pacific (AJCU-AP) has met for their annual meeting at Sanata Dharma University, Jogjakarta, Indonesia last August 11-12, 2016. The annual meeting was preceded by the Jesuit Conference in Asia Pacific (JCAP) Conference on the Sustainability of Life on August 8-10, 2016 at the same university. Continue Reading →
With the changing landscape both of the Jesuits and of Asia Pacific societies, and the diversity of our educational conditions, languages, cultures, religions and local struggles, how can our institutions of higher learning cooperate to make an effective contribution to the one, global Jesuit mission?  I have been asked to speak to this desire for greater collaboration among us in the context of General Congregation 36.
Mission and Governance
How we understand our mission should decide how we organise ourselves. The Jesuit mission is to serve the 'Missio Dei'.  This mission is clearly given in the Formula of the Institute, the final version of which dates back to 1550.
<read full text [PDF]>
Prof. Eka Priyatma
Universitas Sanata Dharma
<Curriculum Vitae [PDF]>
The Association of Jesuit Colleges and Universities-Asia Pacific (AJCU-AP) slated the 8th Service Learning Program (SLP) with the host, Sogang University Seoul, South Korea last August 6 to August 16, 2015.
Nineteen delegates and 6 faculties from 7 universities participated in the three-week program. It gathered the Jesuit schools in the Asia Pacific region including Ateneo de Manila University, Ateneo de Zamboanga University, Ateneo de Cagayan, Xavier University and Ateneo de Davao University, Philippines; Sanata Dharma University, Yogyakarta, Indonesia; Sophia University, Tokyo, Japan; and the host, Sogang University. Continue Reading →
The conference on sustainability was first mooted in the 2013 JCAP Extended Consult by three JCAP Networks (Buddhism, Islam & JCIM). The initiative was a response to Goal 3 of JCAP's Outline of an Apostolic Plan 2014-2019 which calls for collaboration in mission. A year later in the 2014 JCAP's Extended Consult (Oct 23-24), seven Networks- Secretaries (Buddhism, Islam, JCIM, Social Apostolate-Migration & Reconciliation with Creation (RWC), AJCU and FORMATION) deliberated on organizing this Conference. Fr. Joel Tabora's call to make this a JCAP Conference was accepted. At the 2014 JCAP Extended Conference, Fr. Cyril Veliath, SJ gave a copy of the proposal to Fr. Mark Raper, SJ. The JCAP Consultors deliberated on the proposal and on January 12, 2015, Fr. Eric Villandria (JCAP Socius) met Jojo Fung regarding the comments of the JCAP Consult. At the Oct 23-24, 2015 JCAP Extended Consult, Pedro shared the concept paper and received many invaluable insights. The latest addition of Basic Education to this collaborate effort makes this initiative a truly Jesuit-led conference of Asia Pacific region.
<read full text>
Fr. Joel E. Tabora, S.J.
July 10, 2015
Address delivered at the
2015 Melbourne Conference on Jesuit Higher Education Melbourne, Australia
This afternoon I have the privilege to share with you some personal thoughts on the formation of the Jesuit university communities towards social justice based on my experience as current President of the Ateneo de Davao University (ADDU) and the shared experience of service learning in the Association of Jesuit Colleges and Universities in Asia Pacific (AJCU-AP). On both levels I reflect on efforts that are ongoing – works in progress – rather than on models. I hope simply to encourage sharing on the issues and challenges we encounter as Jesuit colleges and universities committed to making a contribution to social justice in the world today. Continue Reading →