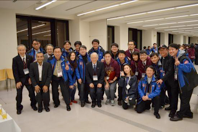 SOFEX is Sophia Sogang Festival of Exchange, where there are sports, cultural and academic exchanges of students and faculties held every year between these two Jesuit Universities, Sophia(Japan)  and Sogang(South Korea), since 2010.
Sophia University and Sogang University both being Jesuit institutions have always felt that we have so much in common.  The exchange between Sophia and Sogang had their origin in 1960 the year in which Sogang University was founded.  Later in 1983, we have concluded an agreement for exchange students and have been running a purposeful exchange program ever since to give students a chance to study and prepare for life together.
We have been holding SOFEX since 2010 and this will be our 4th Festival.  Through the SOFEX students will learn to appreciate great value of different cultures and bring out their own merits in dealing with this rapidly globalized society.
The fourth Sophia-Sogang Festival of Exchange was held at Sophia University in Tokyo November 14-16 with the participation of 140 students and 10 faculty members from Sogang. The two Catholic universities agreed in 2010 to hold an annual event of sports and cultural exchange at alternating venue. This year about 100 Sophia volunteer students including Korean students supported the event.
Following an opening game, basket ball match, and a reception on November 14, Shaolin kun fu, karate, and Taekwon-do were performed for the first time by students from the two schools on November 15 as well as regular events such as soccer, rock concerts, and Japanese and Korean traditional music presentation. Faculty members of both schools held active discussions on East Asia studies, theology, and science and technology.
On the last day Japanese students escorted the Sogang team to Tokyo Tower and Odaiba followed by a farewell reception where Sophia's Latin American Music Club presented music and dance performance.