Half of our time, half of our lives
What would you do if half of your time was free to do anything?
What kind of world will we live in if we used half of our time for something far greater?
Teachers instructing a poor student half of their time
Builders constructing a house for the homeless half of their time
Laborers working for the jobless half of their time
If one thinks for the poor half of her time
If one loves the poor half of his time
If my life or yours was for the poor half of our time
If only 3 billion people on Earth was concerned with other 3 billion
How can the many be concerned with those who have less?
How can the majority listen and love the minority?
How can the religious help the faithless?
How would you give half of your time for others…
When your time has been yours since the beginning…
When your time has been set by society for you…
How would you share time if you could give half of it?
K. Llorin (Jogja 08/25/12)
A poem, a personal reflection, and inspiration for SLP 2013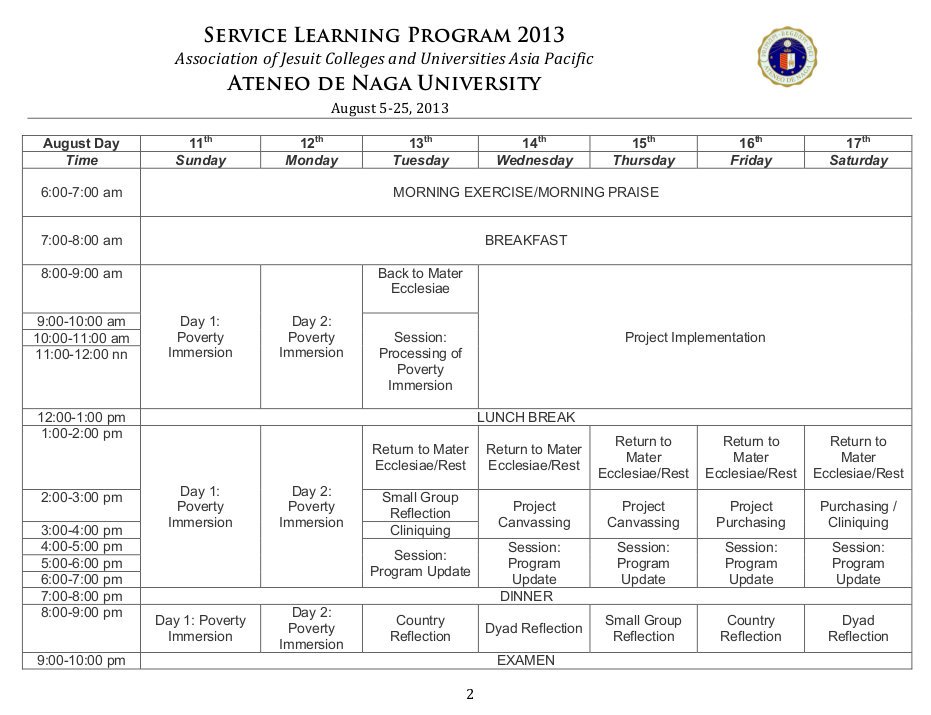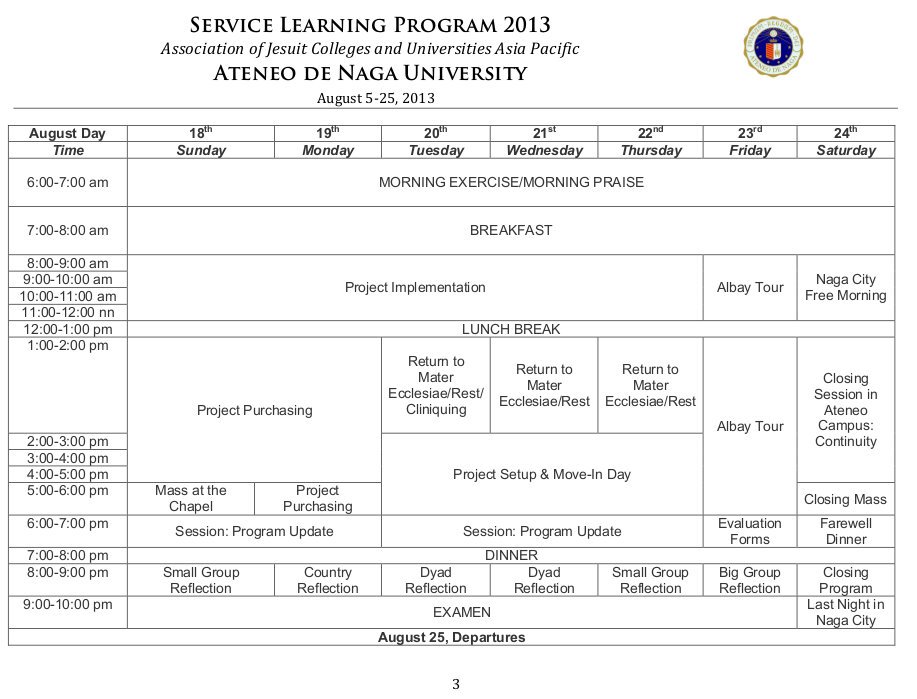 Service Learning Program 2013

Association of Jesuit Colleges and Universities Asia Pacific
Ateneo de Naga University
August 5-25, 2013
Terms
Morning Exercise – each country will rotate in conducting the morning exercise with a warm up, stretching, jogging, other exercises to strengthen muscles, and a cool down. Personnel or athletes from the Ateneo Athletics office will assist in the exercises.
Morning Praise – each country will rotate in conducting the morning prayer; any type of prayer activity appropriate in the morning can be introduced. The Campus Ministry staff can assist the country groups with their needs to conduct this.
Session – all activities in the hall, indoor activities or inside the compound of Mater Ecclesiae has to be participated by all participants, with facilitators coming from the Guidance Center.
Keynote – Jesuit speakers have been invited to talk about the theme, to give content and context of SLP 2013, to be facilitated by International Relations Office and DAVP
Reflection – sessions with the self, a partner (dyad), a small group (mix schools and countries), country, big group (all participants) have been scheduled for maximum sharing of personal reflections. Country reflection groups will be guided by their faculty. Individual and dyads will be private conversations. Small groups will be left alone. Big groups will have facilitators. To be monitored and facilitated by the Campus Ministry.
Breakfast, Lunch, Dinner – meal breaks from main activities; most meals will be taken in the refectory; some meals will be taken outdoor; participants may also given food allowances to choose their own meals. Participants provide their own snacks and can only be eaten in the refectory, or during breaks in the sessions. To be managed by the International Relations Office.
Cliniquing – sessions with the faculty and one student representative from each school to feedback concerns to the SLP organizers and to adjust or respond to them immediately, to be to be facilitated by International Relations Office and Guidance Office
Rest – time after project implementation
Mass – celebrated every Sunday at the chapel or the opening and closing mass at Christ the King Church, at the Ateneo Campus, to be facilitated by Campus Ministry
Poverty Exposure – observing poverty situations through a boat ride along the Bicol River to be facilitated by the Center for Community Development
Poverty Immersion – 2 day outdoor, stay-in with a poor family, laboring for food to eat for the day, to be facilitated by the Center for Community Development
Program Update – sessions with organizers in announcing information related to the project or to the program, to be facilitated by International Relations Office
Group Relaxation – groups not doing project implementation will have time to relax their bodies in a different venue, to be facilitated by International Relations Office
Project Implementation – an outdoor activity, the main activity of the participants half of their time daily, to be facilitated by the Center for Community Development
Project Canvassing – an outdoor activity where other participants will canvass materials for the project, to be facilitated by International Relations Office
Project Purchasing – an outdoor activity where other participants will purchase the needed materials for the project, to be facilitated by International Relations Office
Project Set up – in the project area, purchased materials will be set up, to be facilitated by the Center for Community Development
Examen – the Daily Examen is a technique of prayerful reflection on the events of the day in order to detect God's presence and discern his direction for the individual, to be introduced by Campus Ministry
SERVICE LEARNING PROGRAM 2013
Important Details
Submit all Institutional and Individual Forms here SLP 2013 Program Email: slp2013@adnu.edu.ph
Karlos Jerome N. Llorin
SLP 2013 Program Head
karllorin@adnu.edu.ph
+639392198143
Alumni and International Relations Office Ateneo de Naga University Ateneo Avenue, Naga City
+63 054 472 2368 local 5735
President's Office
+63 043 473 0759
+63 054 473 9253 (Fax)
Dollar Bank Account:
Ateneo de Naga University
Bank of the Philippine Islands (BPI)
Caceres Branch
8854-­‐0093-­‐02
Main Venue:
Mater Ecclesiae Formation Center Pili, Camarines Sur +63 054 475 8367